CMS Made Simple™ 2.x Official Documentation
Welcome to the CMS Made Simple 2.x documentation website.
Looking for the 1.x documentation? It can be found at docs1.cmsmadesimple.org.
This documentation website is maintained by the CMS Made Simple Development Team and will provide experienced web developers with the knowledge to manage a CMSMS powered website.
What is CMS Made Simple?
CMS Made Simple is an open source (GPL) Content Management System first released in July 2004. It is built using PHP, which provides website developers with a simple, easy to use utility to allow building small-ish (dozens to hundreds of pages), semi-static websites. Typically, our tool is used for corporate websites, or a website promoting a team or organization, etc. This is where we shine. There are other content management packages which specialize in building portals, blogs, or article based content, etc. CMS Made Simple can do much of this, but it is not our primary focus.
Who should use CMS Made Simple?
If you're a professional web developer. If you have found that sometimes creating a corporate or organization website is difficult in some of the other content management systems. If you have found that other CMS's are sometimes "overkill" for what you need. If you want to be able to hand off the content management to inexperienced editors. If you want complete control over the layout and appearance of the site, and you know how to do it... If you want an easy to use, yet expandable tool, then CMS Made Simple is for you.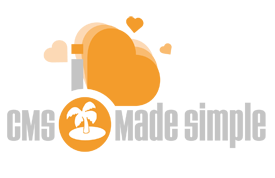 About this website
It probably won't surprise you, but this website is created with CMS Made Simple.
This website uses the following add-on modules/plugins in the frontend:
And some custom code:
Note: The content on this website assumes that you are a professional web developer. Generally, we will not explain how to perform basic steps such as creating databases, uploading files or changing file permissions (or what they are). If these concepts are unfamiliar to you then Google is soon to be your best friend.
Accuracy
The content of this website probably duplicates some of the help text distributed with the CMS Made Simple package. If at any time there is a discrepancy between the content on this site and the text distributed with CMSMS itself, the information displayed with CMSMS should be considered the most accurate.
We need your help!
We really need your assistance to make the documentation accurate, user friendly and understandable.
Please send us your feedback using the orange feedback button at the right side of the website.